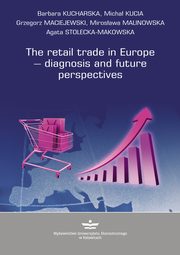 The retail trade in Europe – diagnosis and future prespectives
Wersja elektroniczna (brak aktualizacji)
Wydawnictwo: Wydawnictwo Uniwersytetu Ekonomicznego w Katowicach
ISBN:

978-83-7875-255-4


Wydanie:

1,

2015 r.


Język: angielski

Dostępność:

dostępny



eKsiążka (Watermark)


Retail trade constitutes an important sector of economies in European countries. Retail trade faces numerous changes caused by the processes of concentration and integration of retailers, internationalization of commercial organizations, progress within IT technologies and trends in customers` behaviours. Multiplicity and diversity of customers` needs, which may be satisfied in retail trade, contribute to the commencement of diverse ways of providing products to their customers by retail trade enterprises. The result of these changes is a new structure of retail trade network in particular European countries.
<br>The objective of this study is the diagnosis of retail trade functioning in Europe and an attempt to outline perspectives and directions of development of this economic sector. The report constitutes a complex study of retail trade, retailers and retail chains functioning in Europe and its selected countries.
<br>The characteristics of retail trade in Europe were conducted on the basis of available Eurostat statistics, data published by national statistical offices, research agencies, organisations of retailers and other institutions dealing with retail trade.
<br>The primary sources were used for the needs of this work as well. The extensive objectives of this work required specifying the subject and spatial matter of direct research. The objects of the research were inhabitants of selected European countries: Belgium, Finland, France, Germany, Poland, Romania, Slovakia and Hungary.
<br>The attempts to predict perspectives and directions of retail trade development in Europe were based on the experts` evaluation method.
<br>The publication will certainly be very interesting for all people dealing with the issue of retail trade on a daily basis. The managers of retail companies, researchers as well as students will find these themes very useful.