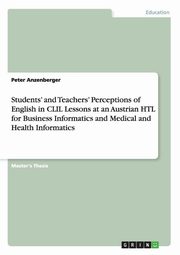 Students' and Teachers' Perceptions of English in CLIL Lessons at an Austrian HTL for Business Informatics and Medical and Health Informatics
Wersja papierowa
Wydawnictwo: GRIN Verlag
ISBN:

978-36-568-8312-8


Format:

14.8x21.0cm


Liczba stron:

104


Oprawa:

Miękka


Wydanie:

2015 r.


Język: angielski

Dostępność:

dostępny




Master's Thesis from the year 2015 in the subject English - Pedagogy, Didactics, Literature Studies, grade: A, , course: Master of Science in Teaching English, language: English, abstract: CLIL has been promoted for solving problems of traditional language learning, student motivation and overcrowded curriculum, but the driving forces for implementing CLIL programs are different in each country.
There is great accordance within the European Union that existing language barriers need to be broken down to enhance the European integration (Marsh, 2002). Therefore, it is important that most of the students have a communicative proficiency in languages other than their mother tongue. This communicative proficiency can be reached in language teaching by many ways. One method is content and language integrated learning (CLIL).
CLIL is an approach that integrates the teaching of subject content with the teaching of a non-native language.
Learning other languages is very important in our global society. The knowledge of different languages helps learners to develop skills also in their first language. It helps them to develop skills to communicate about science, arts and technologies to people around the world.
In a CLIL classroom, the subject content and language skills are taught together.
The new curricula for the Austrian upper secondary vocational colleges (technical as well as economic) require the usage of the English language in content subjects. Within all subjects and teachers there must be at least 72 lessons per year taught in English.