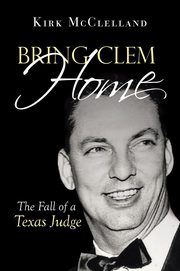 Bring Clem Home
The Fall of a Texas Judge
Wersja papierowa
Wydawnictwo: Page Publishing, Inc.
ISBN:

978-16-421-4015-6


Format:

17.8x25.4cm


Liczba stron:

286


Oprawa:

Twarda


Wydanie:

2018 r.


Język: angielski

Dostępność:

dostępny




The year is 1954 inside a courtroom in the Harris County Courthouse in Houston, Texas. Presiding is Probate Judge Clement McClelland in his second term of office. Walking up to and sitting in the witness box is the Judge's five-year-old son, Kirk, put there with his coloring book by his smiling mother, Doris. Also inside the crowded Probate courtroom is Assistant DA Frank Briscoe, whose predatory eyes glare as he watches and studies the Judge.

Clem McClelland is at the top of his game. As Harris County's Probate Judge, he's run unopposed in his past two elections, he's a Deacon at the First Presbyterian Church, he's top Shriner at the Arabia Temple, and he and Doris have three children.

Frank Briscoe wants to be the District Attorney of Harris County, and then he wants to be elected Congressman of Houston's Seventh District. To accomplish the second part of his plan, he intends to ruin Judge Clem McClelland.

Bring Clem Home covers the next twelve years of the McClelland family's struggle. It's an abuse-of-power story as Frank Briscoe uses an old Texas law from 1876 to conduct a "Court of Inquiry" to improperly investigate and then successfully prosecute a sitting Judge. The story shows Clem's nine indictments that led to his losing his judgeship, it shows his being found guilty at trial, and it shows his going to prison. It's a coming-of-age story for Kirk, and it reveals Doris's broken heart as she and Kirk make every effort to achieve Clem's freedom.

The story takes place during the 1950s and 1960s and includes the 1966 Congressional race for Houston's Seventh District between Frank Briscoe and (the forty-first President) George H. W. Bush. The Houston voters recognized Briscoe's messy pursuit and prosecution of McClelland and, subsequently, chose Bush to be their Congressman.

Bring Clem Home is a story about a great man who suffered a great fall. It also reveals one of the country's first Media-driven prosecutions.

Bring Clem Home shows a Texas court case from the 1960s, the Texas prison system during that time, and how one Texas family worked together to bring Clem home.